Saturday morning, Sean and I flew with Matt and Aimee to Colorado to see the Denver Broncos play the Oakland Raiders. It was the first time Sean had been to a real live NFL football game, so you can imagine how excited he was.
Here we are at the airport waiting for the bus to take us to the Marriott.
That night, Sean and Matt wanted to watch the BYU/Utah football game, so they went and stood in line at ESPN Zone while Aimee and I went shopping.
We found some really great deals. Denver has a walking mall on 16th street that covers 16 blocks, and there are buses that take you up and down the whole length of it.
We only spent an hour, but we sure had a fun time. By the time we got back to ESPN Zone, the boys had just been seated in a booth with their very own TV screen. Aimee and I chatted for the next 2 1/2 hours while they watched their little game.
The big day finally arrived. Matt surprised Sean with a Broncos hat right before the game! He's such a nice guy!
What cute boys.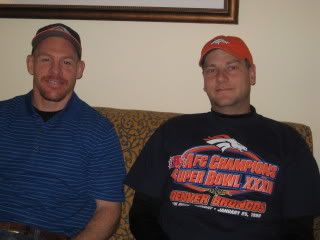 It was finally time to go, so we piled on our warm clothes and headed for the stadium.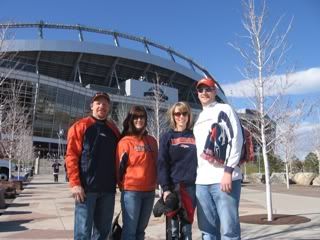 We got to the game 2 hours early, just so we wouldn't miss anything (like the cheerleaders running out on the field).
Here is Sean at a small museum that they have inside Invesco Field.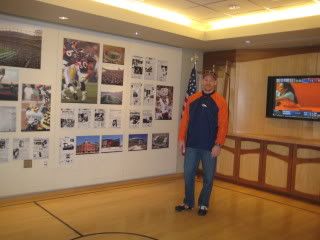 I had Sean pose for me, even his shoes have the Bronco's colors.
Sean and I before the game started.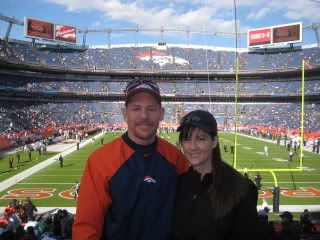 These two looked happier than a kid in a candy store.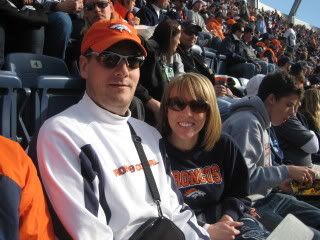 I have to admit, I am not a huge football fan, but it was pretty exciting to be there with a kajillion Broncos fans, cheering the players on.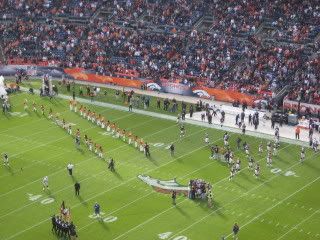 It was a beautiful day and the weather was pretty nice until the sun went down, then it got downright cold! Aimee and I had to run down to the sports apparel store to get warmed up.
The Broncos didn't play as well as Sean and Matt had hoped they would. Here is the final score.
We promised the boys that if they were good, we would buy them some cheesecake after the game. That cheered them up a little.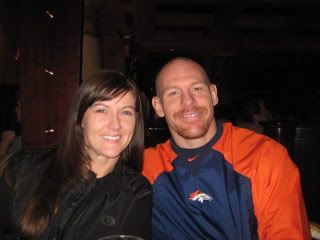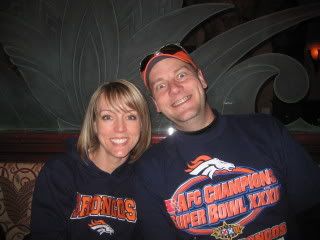 All in all it was a fabulous weekend. Good food, good friends, a little alone time... Maybe the next time we go, the Broncos can pull out a win!!