Katie has a school project due tomorrow in Mr. Saltas' U.S. History class. Their assignment is, "Make your own colony".
Katie has spent the last few weeks working on it with three other classmates.
The first item on their agenda was to come up with a name. Katie, being the outspoken member of the group (and having a fascination with Batman), came up with Batmantopia.
The next item on the agenda was to come up with a founder. Katie quickly decided on Bruce Wayne.
This is how the story goes:
In 1650, a sailor named Bruce Wayne was on his way to South America when his ship was blown off course. They were shipwrecked on an island that was sunny and pleasant. When they dug into the soil they struck gold. (Imagine that.) Bruce Wayne was so happy that he claimed the land and called it Batmantopia.
I had Katie lay all the papers out on the counter so I could take a picture.
Courtney saw that we were taking pictures, so she had to get in on the action. (She is a very needy child.) Katie is not flipping her off, she is holding her fingers in the shape of an "L", which stands for "Courtney" -- I mean "loser".
This is my favorite ...money. On Batmantopia, their money is in the shape of the batman symbol. The caption at the top of the page says, "The bigger the batman symbol is, the larger amount it is worth."
Here is Katie holding up a picture of their weather. The caption at the top reads, "Climate is sunny, pleasant with average rain fall. The winters and summers are average length." (Once again, Courtney needs to be included.)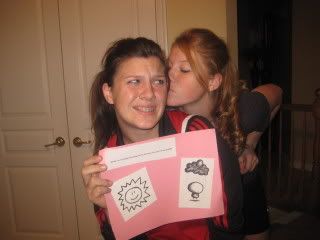 I love projects like this. I also love teachers that give the kids in their classrooms the opportunity to use their imagination. I hope Mr. Saltas is ready.