Yes, I know Tyler 's birthday was only 2 days after Courtney's, I also know that it has been almost a month since I blogged last, but I have 2 great excuses. Number 1, (Sean loves it when I number things), soccer season is in full swing. Number 2, our computer crashed AGAIN! Those are good ones, huh?
These past few months have been pretty exciting for Tyler . After months and months and months of searching, he finally found a job! Granted, it is at McDonalds, but he gets a regular paycheck and that is all that matters. He is not too thrilled about it and is still searching, but it works for now.
He turned 19 in March. I am actually okay with having a 19-year-old; I didn't think I would be and I'm not sure how I will feel when he turns 20. I guess I will let you know in about a year.
Erin got him a huge basket full of fun stuff. She also made him a really cute scrap book.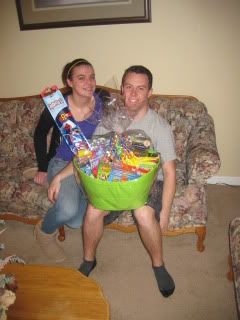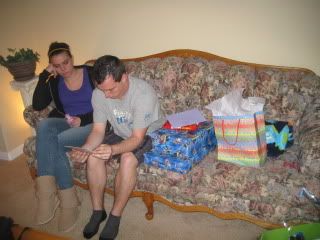 A few days later Erin asked to him to Girl's Pref.
They had a great time. They went with a huge group of friends to Boondock's, and then Chili's for dinner. After the dance, they went back to Erin 's to watch "The Proposal" in her backyard.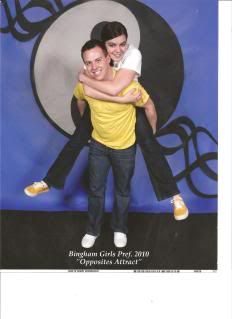 When asked about his favorite part of the night, his answer was, "Aw, come on Mom!" To which I replied, " Tyler in 10 years when your kids are reading this blog, they are going to wonder what the most favorite part of your night was!" His answer to that…silence.