At the end of June, Sean and I went down to Dixie with Cottonwood's girls soccer team. They needed a mom in each condo, so I volunteered along with another lady named Diane. Since Sean has been helping to train the girls this summer, the coach asked if he could come down with me.
Although we have been to St. George quite a few times, it was never in the middle of summer and never when the temperature was over 100 degrees every day. Needless to say, it was very, very hot!
We had 18 girls to take care of. We split them up into two different condos and were responsible for breakfast, lunch, dinner and transportation.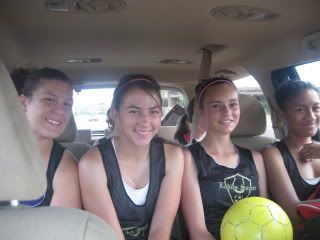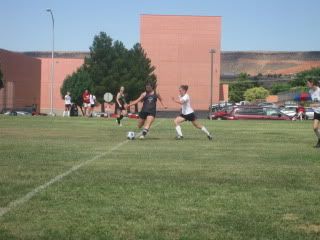 They had two games each day. Luckily they only lasted an hour, so we were able to get the girls back into some air conditioning pretty quickly.
On Wednesday, their coach took them to the Pizza Factory for lunch.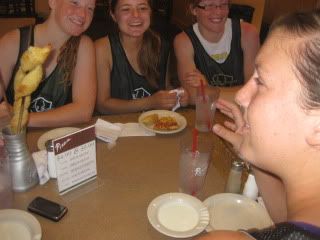 I threw in this picture to show you the bread sticks. If you have never tried these beauties, you are missing out. (Insert image of Sean rolling his eyes.) They were so amazing, seriously, I have never tasted a more delectable piece of heaven. I am not going to admit how many I ate, but it was a lot!
Thursday they were each given a movie ticket and since Eclipse had just come out, there was really no question what movie they wanted to see.
The girls played really well and won most of their games during the week. Friday night they had an all-star game where each high school team got to pick a player to go and play in the game. They all voted and Katie was picked, she was pretty shocked and extremely excited.
Before the game they got some paint and decorated their faces with Katie's name.
I have to admit, it was pretty exciting sitting in the Hansen Stadium watching my daughter play soccer. I have to keep reminding myself that she isn't even 16 yet and I still have a good 3 years before she leaves me.
After the game we went back and had banana splits to celebrate.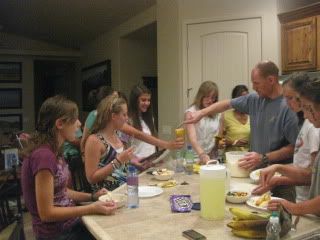 It was an exhausting week, but I had the time of my life. There was very little drama, and it was so much fun getting to know all the girls a little better. Diane and I worked our tails off feeding, cleaning and chauffeuring. We would fall into bed exhausted every night. I can't think of a better way to spend a week of vacation and have already signed up to do it again next year!