Sweethearts was Katie's first official date. She went with her best friend, Elijah.
I don't know when school dances became an all day affair. Way back when I was in high school we went to dinner, then to the dance and called it good. (Oh yeah, except for that one time when we decided to watch a movie afterwards, then go toilet papering (sorry Leo), then drag State Street. Have I ever blogged about our first date?) Anyway...
They started out at the laser tag arena that morning. After a few hours of running around and shooting each other, the girls came home and got ready. Instead of going out to a restaurant, the girls asked if we could reserve our clubhouse and have the dinner there. We had James' parents cook the meat, I made manicotti, and the rest was potluck.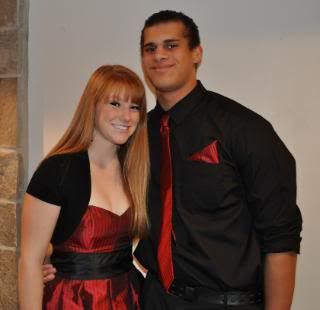 Dinner for 28 anyone?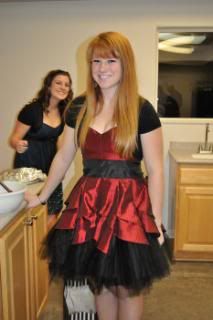 The girls looked so beautiful.
When we went to pick out dresses, Courtney grabbed this dress of the rack and tried it on as a joke. Once she put it on, she fell totally in love with it. It was only $25, I love Ross Dress for Less!
After dinner it was off to the dance, then back to Amanda's for a movie and dessert.
They had such a great time. I love that my girls are so close and love to hang out with each other!