It is kind of sad to think that my baby just got her Learner's Permit.
It seems just like yesterday she was falling into tables, tripping on the sidewalk, and getting stitches.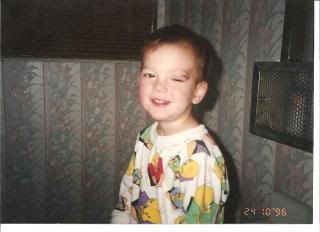 Pretty scary to think she will now be behind the wheel.
Luckily she has outgrown her clumsiness. In fact, having had to sit through us teach Tyler and Courtney how to drive, she is really quite good.
If you are wondering why she has her fingers over her picture, it is because her father told her that he would give her $5 if she pulled a funny face. She got the $5... Let's just hope that picture doesn't end up on her permanant driver's License!