Katie came home a few weeks ago and announced that she was going to run for Historian at her Jr. High. I thought it was a great idea, I would never have dared to do something like that when I was her age, I am so glad she is such a confident person.
The campaigning began. Courtney came up with a perfect slogan for Katie to use -- JUST DO IT.
We made fliers, posters, and even a stamp.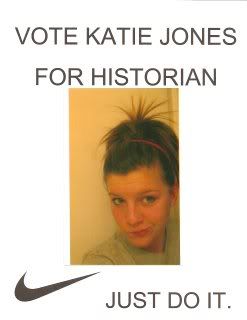 Unfortunately she was up against one of her very good friends - Erin. They have been friends since we moved into this neighboorhood.
The Primary votes were cast, both Katie and Erin made it through.
That meant we had two days to put a video together. The video was due on Monday and would be shown to the 7th and 8th graders during an assembly the following day.
Katie worked hard all weekend. With a lot of help from friends and family, this is what she came up with.